Longopac
The unique Paxxo Longopac® system enables smarter waste handling and innovative packaging applications for a better working environment for professionals.
The bag cassette is hygienic since the bags are replaced and sealed from the outside – there is no contact with the waste. The bag cassette is manufactured from an extremely thin and strong 3-layer polyethylenematerial.
The bagging material is folded into compact cassettes in especifically  developed machines. Longopac gives advantages as in time saving handling, low material consumption and low transport costs.
The bag cassette is available in many different colors and strengths as well as in Mini, Midi and Maxi size.
Longopac is certified to be used in different kinds of handling within: Odor Control, Biodegradable, Food, ESD, Sterile as well as with different strengths on the bag cassette.
Longopac Mini
Diameter: 357 mm
Standard: 60 meter
Strong: 45 meter
Lean: 75 meter
Cable ties – 75 pcs
Strong: 60 pcs, Lean 90 pcs
Longopac Midi
Diameter: 465 mm
Standard: 85 meter
Strong: 70 meter
Lean: 100 meter
Cable ties – 100 pcs
Lean: 120 pcs
Longopac Maxi
Diameter: 570 mm
Standard: 100 meter
Strong: 90 meter
Lean: 125 meter
Cable ties – 130 pcs
Lean: 150 pcs
Versions
Odor Control
Food
ESD
Biodegradable
Pacto
Sterile
Lean
Read more about the different versions.
Longopac (ENG)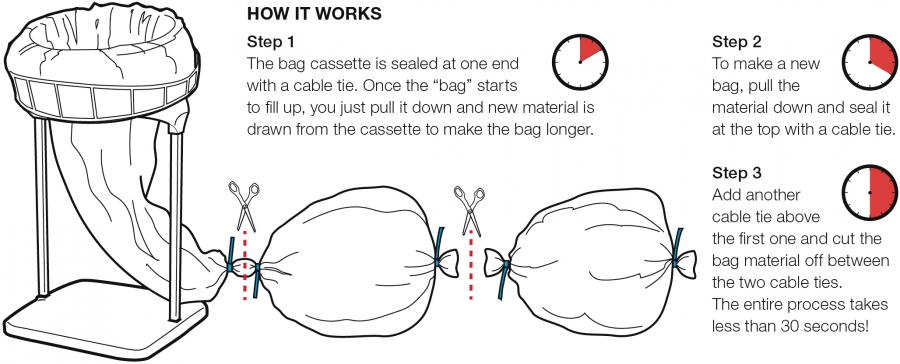 Hygienic
Bags are replaced and sealed from the outside – no contact with the waste.
Spillages around the opening are collected by the next bag.
Easy to clean.
Efficient
Loaded with a bag cassette up to 110 m in length.
New bag always in place.
Bag always securely sealed.
Quick bag replacement – saves time.
Variable bag size for flexible replacement intervals.
Environmentally friendly
The bags are manufactured from three-ply polyethylene- low material consumption and high strength.
Independent lifecycle analysis  show a 80% lower carbon dioxide emission compared to traditional waste bags.
Our bags have a lower weight and a more compact packing give less transport cost.
Longopac Biodegradable, a 100% compostable bag – available as an additional choice.